Mono X 300
The Mono X 300 is a massively powerful amplifier, yet it is still housed inside just one aluminium die-cast chassis. Incredibly, it is able to drive over 300 Watts into real world speaker loads!
Outputs over 300 Watts with outstanding control and dynamics, Zero Feedback circuit design eliminates unnecessary circuit paths for wide open imaging and pitch black background noise. Home automation control via RS232 and 12v Triggers for truly flexible installation options. Zero Feedback technology offers some very attractive sonic benefits. Two key benefits of this technology are:
The design allows the key stages in our amplifier to work independently without the hindrance of global feedback. In a traditional amplifier the corrective actions necessary in the output stage to drive a loudspeaker are fed through the entire amplifier, disturbing unnecessarily the input and voltage amplifier stages. Cyrus Zero Feedback amplifiers are able to create an uncanny sonic blackness onto which we paint our musical image. They can achieve this because as the output level reduces to lower levels, where the ear becomes most sensitive to these effects, the distortion produced by the new Mono X models falls below measurable limits. The result is an exceptional musical performance.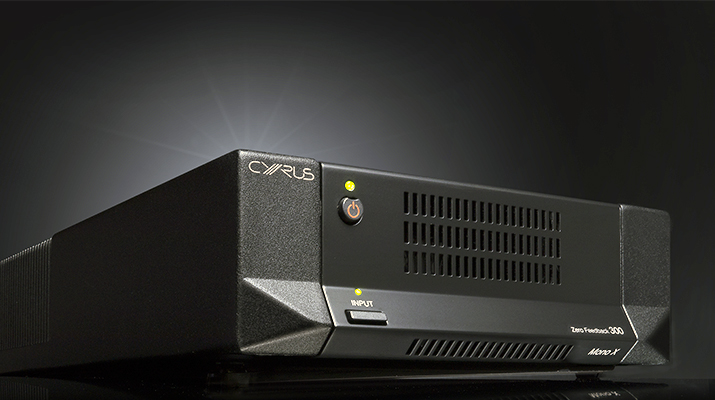 Specification
Distortion: <0.004%
Freq Resp -3 dB
Slew rate 700V/S
S/N ratio 116dBA
Power 235W (into 8 Ohms)
Power 365W (into 4 Ohms)
Weight - 6.4kg
Dimensions - H73 x W215 x D360mm
Downloads