Mono X300 Signature
Cyrus has a prestigious history of high-fidelity amplifier design. For more than 30 years we have crafted some of the world's finest audio components. The finest of them all is the Mono X 300. Engineered from scratch using our in-house developed Zero Feedback technology, the Mono X carries both prodigious power and exceptional control. Capable of driving the world's most demanding speakers, the Mono X is the crown prince of power amplifiers.
Cyrus's latest generation Zero Feedback Power amplifier brings inherently natural and high resolution musical reproduction. By removing the traditional amplifier 'global feedback' loop, sonic improvements are made and our signature sound quality is produced.
The high current design of the Mono X 300 Signature effortlessly drives even the toughest loudspeaker loads. A 200 VA toroidal transformer can provide a huge 319 Watts into 6 ohms which not only produce powerful sound but remains stable throughout.
Balanced or unbalanced connectivity offer all the connectivity requirements to match up with Cyrus pre amplifiers. High quality bi-wire terminals are provided to allow ideal connectivity to high performance loudspeakers.
12v trigger and RS232 control are provided as standard along with an intelligent signal sense power mode which allows the Mono X 300 Signature to be installed in a variety of setups.
Having so much power inside our die-cast aluminium chassis is not a problem thanks to a twin fan design which has a proprietary signal sensing circuit that run the fans in line with the music level; meaning they will never intrude even on the quietest passages of music.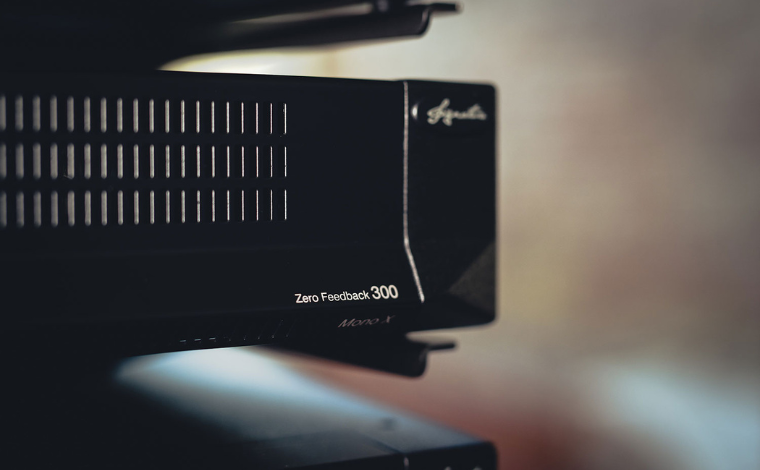 Downloads