ONE Cast streamer
As the centre of your new smart home audio system, ONE Cast will connect directly to virtually anything that produces audio. From mobile phones over Wi-Fi, laptops through USB, games consoles, record players and radio stations over the internet. You can even connect your Smart TV to ONE Cast using HDMI. It even features a class-leading headphone amplifier for late-night listening.
With ONE Cast you can stream music in high-quality directly from your phone using Spotify, Deezer, Amazon Music, Apple Music, Qobuz, Tidal – in fact, almost any streaming service over Wi-Fi. If you have voice assistant smart speakers on the same Wi-Fi network, you can use voice commands to send music directly to your ONE Cast smart amplifier or even set as part of a group for true multiroom audio.
Any streaming or music playing app which is Chromecast compatible can be played via the ONE Cast. Simply launch the app, hit play, and then select the ONE Cast from the Chromecast button within the app. The ONE Cast then takes over the hard work, pulling the data from the cloud and converting it to an enthralling musical experience in up to 24/96 high resolution. Apple AirPlay 2 is also on board, providing a similar ease of use for Apple users.
Cyrus ONE Cast features a built-in phono stage that is compatible with all Moving Magnet cartridges and requires no adjustment or extra set up, enabling you to play all your favourite vinyl from most turntables. Alongside the turntable input is an AV input that can be set to fixed gain in order to integrate with a separate AV amplifier
When headphones are connected, the class AB headphone amplifier draws all its power from the huge main toroidal transformer. These deep power reserves enable the high voltage design to drive almost all headphones with ease, resulting in a musical performance akin to a stand-alone headphone amplifier.
The onboard ESS 32 bit DAC is capable of handling up to 32/192 sources and DSD to DSD128 over asynchronous USB. Additional optical, SPDIF and HDMI (ARC) inputs give you all the connection flexibility you need. Bluetooth is also built in.
The amp features S.I.D. (Speaker Impedance Detection) which calibrates itself to perform optimally with any loudspeaker it encounters. This means that matching Cyrus ONE Cast to any brand of loudspeaker has suddenly been made so much easier.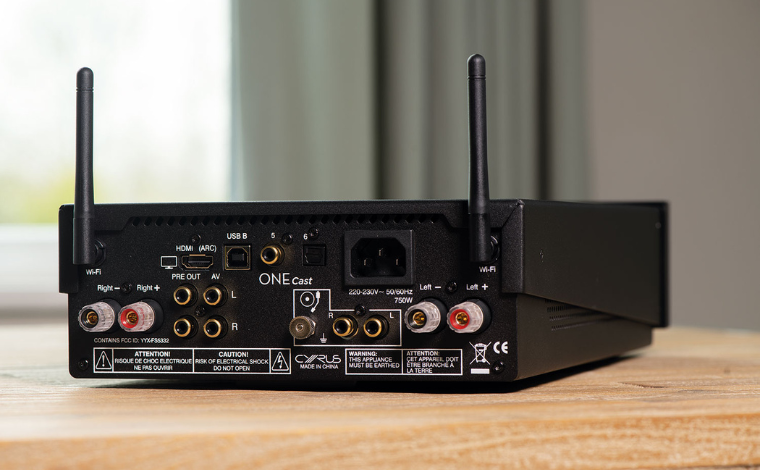 Specification
2 x 100 watts per channel (into 8 Ω at 0.1% THD+N)
Built in DAC up to 32bit 192kHz and DSD to DSD128
HDMI (ARC): for seamless TV integration
4 x Digital Inputs including Asynchronous USB, Optical Toslink and Coaxial SPDIF
MM Phono Stage for vinyl turntables
Headphone Amp - Class AB amplifier
Linear power supply for true high-end audio performance
Pre outputs to connect to additional power amplifiers
Dimensions: (H X W X D) – 85 x 220 x 390mm
Weight: 5.6kg
Downloads