Quattro Multi Room
The Quattro Multi-room kit was to enable expansion of a Quattro CD system to introduce quality sound into three extra rooms of the home. Simplicity is the keyword – simplicity of installation, simplicity of operation. The easy installation and the wireless control system of the Quattro Multi-room kit transmits through the walls of the building and requires no remote control cabling or wall-mounted panels. Speaker cabling from the central Quattro system to each remote room is all that is required.
The Quattro Multi-room kit includes an external receiver module. This enables the antenna to be located away from the main Quattro system in the position which will give best reception. The connection cabling uses standard 4-pin Mini-DIN connectors and is compatible with S-Video interconnects so that the receiver cabling may easily be extended where required. Additional receiver modules may also be obtained and chained together to facilitate installation in larger houses or on different flooring levels.
High quality sound in all zones – the three zone preamplifier card includes three stages of the same circuit topology as the main Quattro system and is compatible with all power amplifiers in the Cyrus range. The control system enables each multi-room zone to have independent volume control and mute settings. Four input capability – in addition to the Quattro CD and Tuner sources, the AUX and TAPE sources will also be routed to the Multi-room zones when playing on the main system. MD, Tape or DVD analogue sources may therefore be introduced into the system via the AUX and TAPE inputs as required.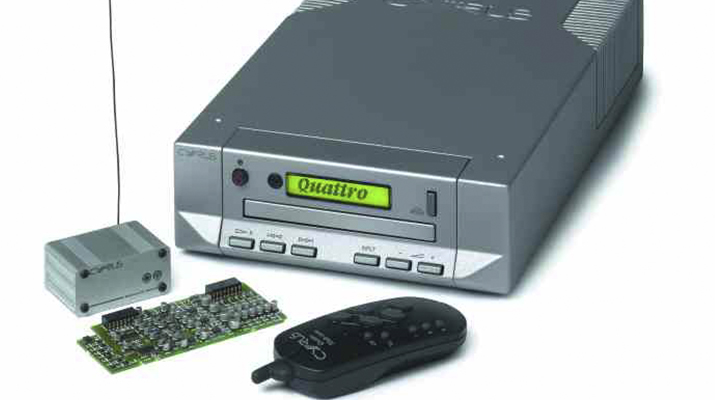 Specification
Freq Resp – -3dB
Output impedance – 200Ω
Outputs – Zone 1, 2, 3
Downloads