Pre XVS
The Pre Xvs was specially developed around a new Cyrus circuit incorporating our latest "Virtual Servo" or 'VS' preamp. The development of the new Pre Xvs provides many advancements over the previous model such as faster dynamics and larger scale to the acoustic image with a quieter background behind the music (which we describe during our listening tests as the black with the music being the colours painted over the background).
The new Pre Xvs is a specially developed control unit to partner our range of matching mono and stereo power amps. Featuring a huge power supply, finely tuned power regulation stages and our most detailed acoustic circuit tuning, the Pre Xvs manages to combine outstanding performance with simple intuitive operation. Some of the more advanced features are hidden from immediate view. These include our intuitive speed sensing volume knob, individual input sensitivity and a high-quality headphone circuit that allows you to leave your headphones permanently connected.
Cyrus engineering of straight line, short path design establishes a high-performance circuit for the Pre Xvs to be built on, with the solid-state topology of the Pre Xvs ensuring that there are no switches or other contacts in the signal path to introduce undesirable distortion artefacts which could degrade the signal. Additionally for the Pre Xvs, a new generation of coupling components designed specifically for high-end audio amplifiers are featured throughout the signal stages of the preamplifier.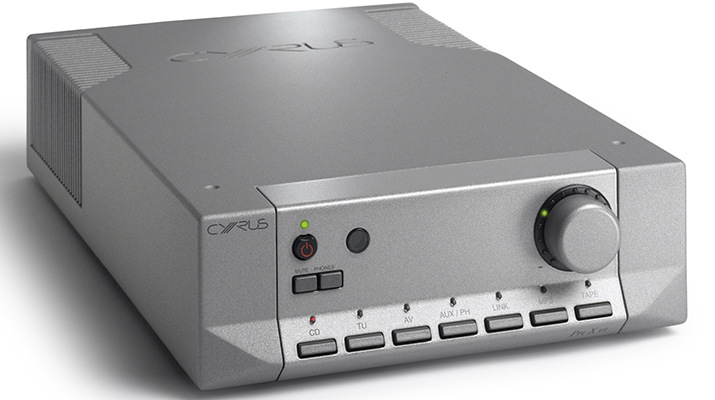 Specification
Distortion – 0.003%
Freq Resp – -3dB
S/N ratio – 105dB
Line inputs – 6 + Tape monitor
2 x Preamp-out
Tape-out
Headphone Output
Weight – 3.7kg
Dimensions – H73 x W215 x D360mm